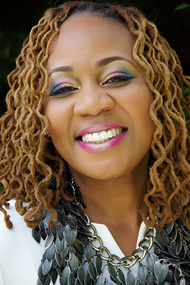 Trish Standley is a multi-faceted, multi-talented woman of God. Determined to use all the gifts that the Lord has given her, Trish is uplifting and encouraging a generation of believers as she walks through the doors that have been opened for her. Brought to the forefront by her amazing vocal talents as a songstress and songwriter, she has been celebrated with top-charting songs and several awards. But music isn't her only calling as she has recently spread her wings and stepped into the roles of radio and television host. No matter the vehicle, Trish Standley will use the multiple platforms she's been given to provide hope to the lost and healing to the hurting.
Her story starts in Kokomo, Indiana. Known as a singer from her youth, she grew up in a musical family of singers. A vocalist in her COGIC church choir, she was trained in Gospel music. Not only was she a singer, but as a young child, she was taught how to direct a choir. Her church debut as a soloist came with the lead part in The Hawkins Family classic, "Look at Me". With siblings as gifted singers as well, she and her sisters formed a singing group and sung locally. But it wasn't until age 15 that Trish knew she was called to music ministry. She rendered a rendition of Vanessa Bell Armstrong's "Amazing Grace" and the church burst into shouts. Not simply a vocalist, she was gifted with the ability to write songs at the age of 16, the same year that she joined a girl's singing group. It was during this season in her life that she began to realize that God had given her something special, but later at a conference with renowned pastor, Bishop TD Jakes; it was revealed to her that the Lord had indeed anointed her for music ministry.
This confirmation became her foray into recording. Her debut as a recording artist came with the 2010 release of Introducing Trish. The EP was a learning experience for her and allowed the artist to get her feet wet while experiencing the ins and outs of production, recording and songwriting. Two years later, in 2012, she dropped her first full-length project called Redemption. She shined even more brightly on this release with the CD catching the attention of the Gospel music industry nationally. The lead single, "Cheer Up", a contagious, feel-good track, peaked at #44 on the Billboard Top Gospel Songs Chart. Another song from Redemption also became a fan favorite, "Love". Trish was thrilled when that single hit #1 on the UK Soul Chart and remained there for 6 weeks. Awards followed the successful recording and in 2013, she won two Rhythm of Gospel Awards, one for Urban Contemporary Female Artist of the Year and one for CD of the Year.
In 2016, she added another project to her catalog with the release of No One Else. Continuing to share the love of Christ through song, the goal of the CD was to help believers "get back to basics". During the recording of the project, it became clear exactly whom her songs were for. She says, "It was revealed to me during the recording of No One Else who I was chosen to minister to. As a matter of fact, God allowed me to go through the same struggles that those who I was called to minister to were going through," Trish explains. "It was at that point that I understood the remnant I am assigned to are those who are what I call, 'spiritually insecure'. They feel that they aren't good enough for God to love them, for God to forgive them. I am also called to those who have walked away from the Lord in shame and guilt, those whose pride has kept them from coming back to God. Every project I have done has really spoken to those specific people. Every song, every title is strategic because these people are the ones that I am supposed to be ministering to," says Mrs. Standley.
Another critically acclaimed success; No One Else's release was followed by several award nominations including an Atlanta Gospel Choice Award, a Steeple Award and a Blue Mic Award. Throughout her career, her musical successes have found her on numerous stages all around the country. She's graced Christian television programs such as The Trinity Broadcasting Network (also known as TBN), Dr. Bobby Jones Presents, Babbie's House (hosted by CCM pioneer Babbie Mason), Atlanta Live, Club 36 and Nite Lite. She was featured in publications such as "Nashville Pride Magazine" as well as "Trendsetters to Trendsetters".
Music isn't the only calling Trish Standley has. She has always had an affinity for style and modeling. At 16, she went to modeling school, prompted by her mother. From a revelation from God, Trish's mother knew that her daughter would be "in front of a lot of people" and felt that Trish would need to learn proper etiquette, so off to modeling school she went. Once she moved to Atlanta, she sought education and attended fashion school. Years later, feeling a desire to take her passion for fashion to the next level, she created Style with Trysh, an online radio show. The program, which first aired on Blog Talk Radio and then on the Survival Radio Network, generated a lot of interest and found this fashionista sharing tips on wardrobe, makeup and hairstyles. Also, she shared tips on making the inside of women beautiful as well with advice on boosting self-esteem and dealing with insecurities – ultimately helping them to fulfill God's plan for their lives.
A couple of years later, the radio program morphed into a television show on the Atlanta Interfaith Broadcasting Television Network, or AIB. Now with AIB, Trish is able to take the practical advice she shared on radio and use the visual element to bring home her messages in an even clearer way. Trish has a definite goal for the program. "The purpose of Style with Trysh is to bring the lady back," she says. "I want to show women how to dress with class and sophistication; I want to teach, ignite, excite and encourage the return of the everyday woman". And Trish is doing just that. She's had a variety of guests on her program including designers, stylists, makeup artists, fitness experts, health and wellness coaches, motivational speakers, and entrepreneurs, all to help women live their best lives.
Whether it's through song or fashion, Trish Standley seeks to highlight the beauty in God's people, to help them to see themselves as God sees them and to give them the inspiration they need so that they can be all that He's created them to be.