It is funny to hear the words that go something like this: "If so & so comes my way I'm going to check him/her cause I don't play." I have fallen victim to this very saying a lot in my life. Getting someone told makes one feel in control and gets the word out that you are not the ONE to be messed with. However, after sitting down and really thinking on this thing I've come to the realization that when you find yourself "checking" people often then who is really in control?
My Mom has spent my entire life trying to teach me this lesson. She'd tell me to stop being so sensitive and in my small mind I thought I'm not being sensitive I'm defending myself. So now here I am a defensive sensitive person. Where in that description is "control"? My Mom is so suave, calm and smooth with hers. She has "told people about themselves" but she has mastered the art of saying what needs to be said to the point that the person wouldn't realize they had been "told" until her words marinated and by then a rebuttal is too late.
I need that type of strength and control in my life. I can imagine that it will be very difficult at first especially when you've allowed the tongue to speak before the brain has had time to control it BUT it can be done. It is for me to exercise this weakness in my life so that the muscles of self-control and strength are able to manifest themselves.
Being easily offended, highly emotional or quick to anger are weaknesses and I give them no more power of control in my life. The "think before you speak" is my NEW mindset. I made a pact with myself on Christmas Day of 2013 that I would control my eating habits, diet and exercise because if I can't control myself then I certainly couldn't control anything else. It's a LOT of work, working on oneself. I've got a great start to the physical body, now time to work on the mental and as always the spiritual because it will take the POWER of God to bring about this change.
Keep me in your prayers.
Ask yourself ~ Who controls you?
Trish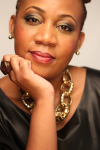 "Style with Trysh" airs every Sunday from 6 to 7 p.m. EST join us @ www.blogtalkradio.com/stylewithtrysh
Filed under: artist, Fashion, gospel, music, singer Tagged: attitude, discipline, esteem, growth, self controlOriginal Article