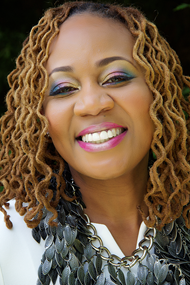 Trish Standley is a voice of hope in a hurting generation. With God-given vocal talent and a passion for those in need of healing and redemption, she has been called as a minstrel for today's body of believers. Through her anointed music ministry, she has uplifted the downtrodden and encouraged the broken-hearted.
Trish's first EP titled "Introducing Trish" was released in 2009. This opportunity allowed her to work with Isaac "Ike" Harris Jr. and Claudius Craig who taught her the ins and out of the studio and allowed her to grow in her songwriting skills.
In 2011, Trish released her first full project titled "Redemption" which includes her single "Cheer Up" that reached #44 on the Neilsen BDS charts. Her track "Love" was another successful track from "Redemption" as it spent 6 weeks the UK Soul Charts as #1. In 2013, Trish was blessed with the Rhythm of Gospel Urban Contemporary Female Artist of the Year award while "Redemption" won the CD of the Year award. TrishThe Atlanta Gospel Choice Awards and nominated as 2016 Female Artist of the Year by The Steeple Awards and The Blue Mic Awards.
Trish's calling is clear. She knows her charge is to speak to and for those who have lost their way and in need of compassion, understanding and patience, reminding them of Christ. Her prayer has always been, "Lord, help me to see your people through your eyes and not my own so I can properly minister to their hearts."
In 2013, Trish became the host of "Style with Trysh", a weekly online radio show which ministers to women not only in the areas of current fashion but also in boosting, inspiring and educating ladies with the importance of healthy self esteem. "Style with Trysh" speaks to the wholeness of the woman.
Trish has been graced to share her gift on such broadcasts as "Dr. Bobby Jones presents", "Babbie Mason", "Atlanta Live" (Channel 57), "TBN" (Akron, Memphis and Gadsden), "WBPI Club 36" (Augusta, GA) and "Nite Lite" (Greensboro, SC). She has been featured in "Promoting Purpose Magazine" where she was able to share her testimony of how God will make it all right. Trish has been blessed with a featured in "Nashville Pride Magazine" as well as "Trendsetters to Trendsetters Magazine". Trish truly thanks God for those open doors as well as others that may be in her near future.
Trish has released her latest project, titled "No One Else", in August 2016. When asked what should we expect to hear from this project, she replies, "The same message of love for our fellow man but more importantly walking in our love for our Lord, God and Savior. It is time for us to get back to the basics."